Stop Sign Flasher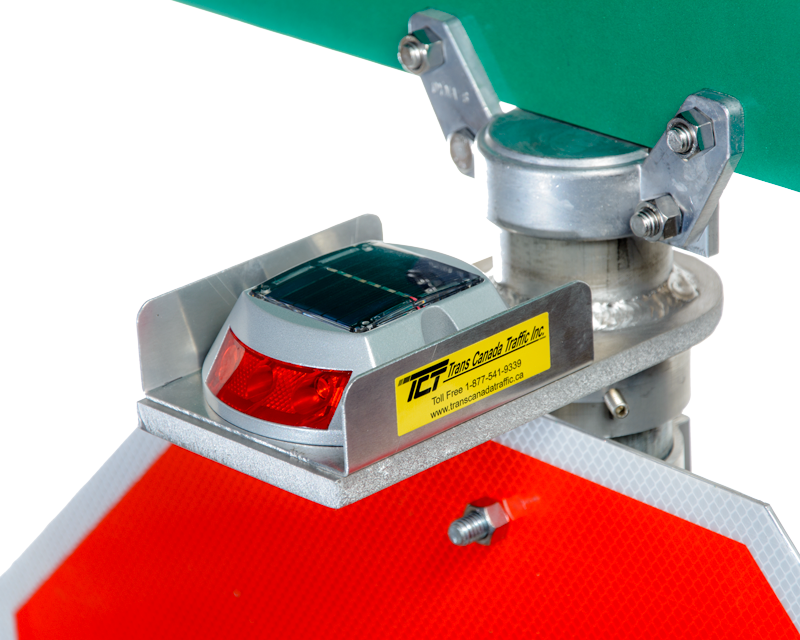 Trans Canada Traffic has developed a unique flashing retrofit for your current stop signs.
Utilizing your existing stop sign and post, you can quickly add the SolaRite Flasher Assembly to provide additional warning to your stop signs. You can place your existing street signage on top of the Flasher Assembly.
With its internal photocell, the flasher will start flashing at dusk and continue till dawn. Using advanced pseudocapacitor technology, the flasher can blink continuously for 16 hours after charging for as little as 3 hours
The extra notification for traffic signs will make your intersections safer in the evening. During stormy and rainy nights the Flasher Assembly will improve the visibility of your stop sign. The Flasher Assembly is fitted with a visor to ensure that only advancing traffic sees the flash.
The all-aluminum assembly, stainless steel hardware combined with the durability of the SolaRight Flasher, this is a no-maintennance product that can save lives.
Also Available in Yellow for Warning Signs
SolaRight Benefits:

Capacitor Powered LED Lights

ISO 9001 Certified Production

16 Hours of Light per Charge

3 Hour Charge Time (8 Hours Cloudy)

-40° to 70° C Operating Temperature

Low Installation Costs

No Wiring, Trenches or Conduit

No Transformers, Timers or Breakers

No Operation Cost
© 2018 Trans Canada Traffic Inc.